All natural, cosmeceutical skincare.
This award winning skincare range is ideal for Vegan clients and anyone wanting a results driven 'natural' skincare range.
There are huge amounts of science and clinical studies behind this incredible totally botanical range of products with a minimum of 99% all natural formulations. There is a small safe preservative system which allows the products to retain their shelf life and results without needing to be kept in the fridge.
TTC – Triple Turmeric Complex is a POWERHOUSE ingredient containing 3 different colourless Turmeric Root actives together with Green Tea, Grapeseed and Licorice created to give your skin a 'broad spectrum' of antioxidants providing the best possible protection against free radical damage.
Our skin cell turnover (regeneration) slows down naturally as we age (intrinsic ageing), from every 28 days in our 20's to every 60 days in our 40's and 90 days in our 60's. This can be exacerbated by our lifestyle choices and stress.
However; 80% of skin ageing is caused by external factors (extrinsic ageing) especially UV exposure which we are subjected to daily from the sun (even on dull cloudy days) and radiation from our computers and mobile devices.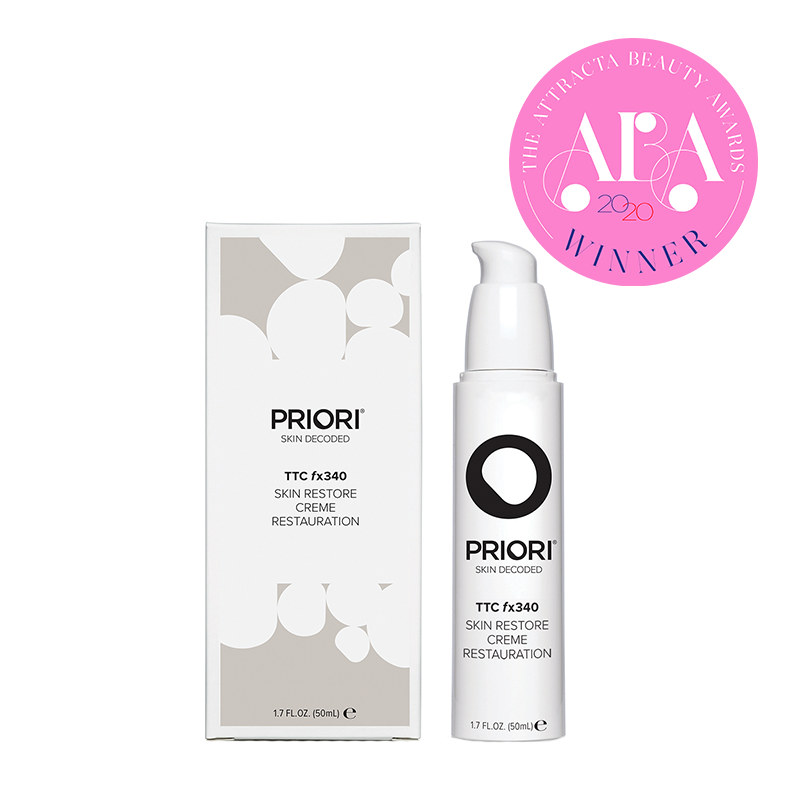 Priori TTC
Naturally Enriched Cleanser: 99.4% natural:
With an all natural soap free cleansing system this beautiful gel textured cleanser will give your skin a gentle fresh feeling.
Alongside TTC – Triple Turmeric Complex this product also contains:
Honey to soothe, hydrate and act as a wound healer where necessary
Aloe Vera calms, soothes and acts as a protective layer on the skin.
Apple Fruit extract (malic acid) this natural AHA gives a very mild exfoliation and reduces inflammation of the skin especially useful for acne and acne rosacea
Vegetable based Glycerin: A water magnet which helps the skin retain moisture improving collagen synthesis.
Illumination Treatment: 99.33% all natural
This 'Corrector' product is a wonderful brightening and illuminating treatment for a dull, tired skin and those with irregular pigmentation or post acne scarring
Alongside the Powerhouse of the Triple Turmeric Complex your skin will benefit from:
Gentian Root Extract which helps reduce the production of the enzyme tyrosinase  (the reason for the cause of pigmentation)
Argan Oil: gives your skin essential fatty acids, antioxidants and Vitamin E
Licorice Root Extract: has a lightening effect on the skin, evens out skin tone and pigmentation with anti-inflammatory properties.
Skin Restore Creme: 99.33% natural
This Award Winning product is wonderful for all skin types but especially dehydrated and sensitive conditions, full of antioxidants to protect against environmental damage too.
Alongside the POWERHOUSE of Triple Turmeric Complex your skin will benefit from:
Pomegranate Extract which is high in Vitamins C & E for optimum skin health. The polyphenols give skin superior protection from UVB induced skin damage.
Sunflower Oil: High in Omega 6 and Vitamin E this wonderful ingredient softens, soothes and moisturises.
Complex of: Vitamins A, C, E and Pro-Vitamin A for essential skin health and reduction of free radical damage within the skin cell.
This lightweight moisturiser is perfect for men as well as women.
Luxuriante Creme: 99.34% natural
Described as a 'Hug in a Bottle' this deeply replenishing moisturiser can be used day or night depending on the needs of your skin. The nurturing texture of this cream is perfect dry, dehydrated and tight feeling complexions. Conditions such as eczema and dermatitis will benefit too.
Alongside the POWERHOUSE ingredient Triple Turmeric Complex your skin will appreciate:
Argan Oil: A rich blend of essential fatty acids, antioxidants and Vitamin E.
Sunflower Oil: High in Omega 6 a fatty acid that aids lipid barrier repair, reducing trans epidermal water loss. This wonderful natural oil for the skin can help to reduce inflammation while it softens and soothes. Containing antioxidant Vitamin E to help repair damaged skin tissue.
Tightening Eye Serum: 99.29% natural
Good for puffy eyes, heavy eyes and dark circles. This tightening eye serum can improve bagginess and lack of firmness.
Alongside your POWERHOUSE ingredient Triple Turmeric Complex is:
Rice Bran and Soybean Proteins: which reduces the appearance of dark circles and puffiness.
Pullulan: Vegetal polysaccharide which has natural tightening and lifting qualities and can stimulate and strengthen collagen fibres.
Hydrolyzed Egg Protein: Conditions the skin and has an instant tightening effect on the area.
Gotu Kola Extract: rich in amino acids, beta carotene and fatty acids this ancient 'healing' plant improves circulation, hydration and collagen synthesis.
Superoxide Dismutase: Superior antioxidant protection against the damaging effects of free radicals.
Keep in the fridge and apply cold, with gentle tapping around the orbital bone until dry will increase the tightening effect of this product.