Light Treatment at home
Our skin cell turnover (regeneration) slows down naturally as we age (intrinsic ageing), from every 28 days in our 20's to every 60 days in our 40's and 90 days in our 60's. This can be exacerbated by our lifestyle choices and stress.
However; 80% of skin ageing is caused by external factors (extrinsic ageing) especially UV exposure which we are subjected to daily from the sun (even on dull cloudy days) and radiation from our computers and mobile devices.
FaceLITE gives you all the benefits of Light treatment in your own home.
With 2 clinically proven wavelengths to slow down premature ageing, heal scar tissue and reduce the effects of sun-damage, FaceLITE mask is a non invasive anti-ageing treatment suitable for all skin types.
This mask also helps people who suffer from Seasonal Affective Disorder as it boosts serotonin levels too.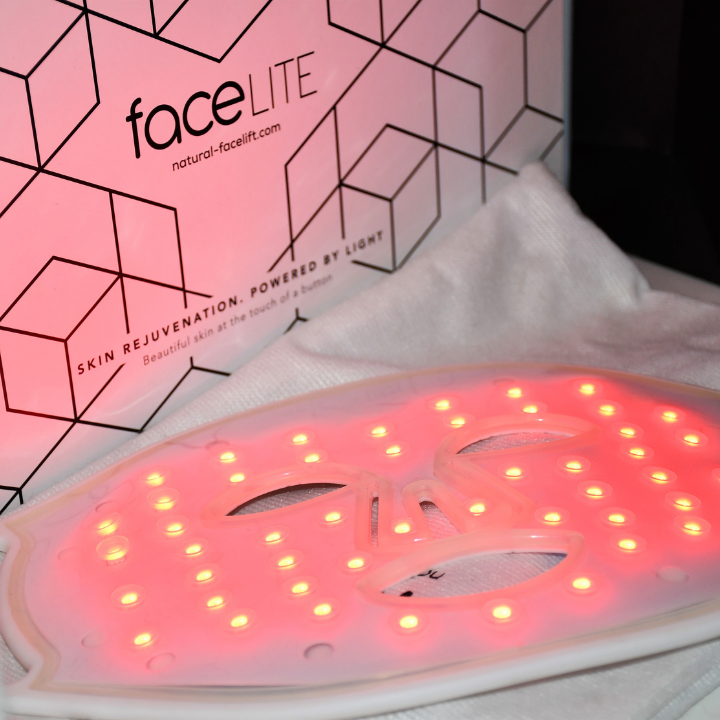 FaceLITE Homecare Mask
Utilising the power of specific wavelengths of light – 693nm (Red) and 830nm (near infrared) for the ultimate non invasive ant-ageing treatment. Suitable to boost all skin types 2/3 times a week encouraging optimum skin health.
Red Light @ 693nm recharges the mitochondria (battery/power pack) within each skin cell. This action is a bit like plugging your skin into the electric, it immediately recharges and brightens, boosting anti-oxidant protection, leaving your skin with a healthy glow. A real WOW moment.
The (near infrared) White Light @ 833nm works deeper into the skin stimulating the fibroblasts which in turn stimulate collagen and elastin production. This part of the treatment continues working for days afterwards.
This healing home treatment can also help to reduce inflammation caused by acne and sensitivity.
For firmer, brighter skin in the comfort of your home FaceLITE is automatically timed for the optimum 10 minute treatment.
Cleanse your skin pop the mask on (it is held by velcro around your head) press the timer, close your eyes and imagine you are laying on a beach with the added benefit of reducing skin ageing instead of causing it by sun damage.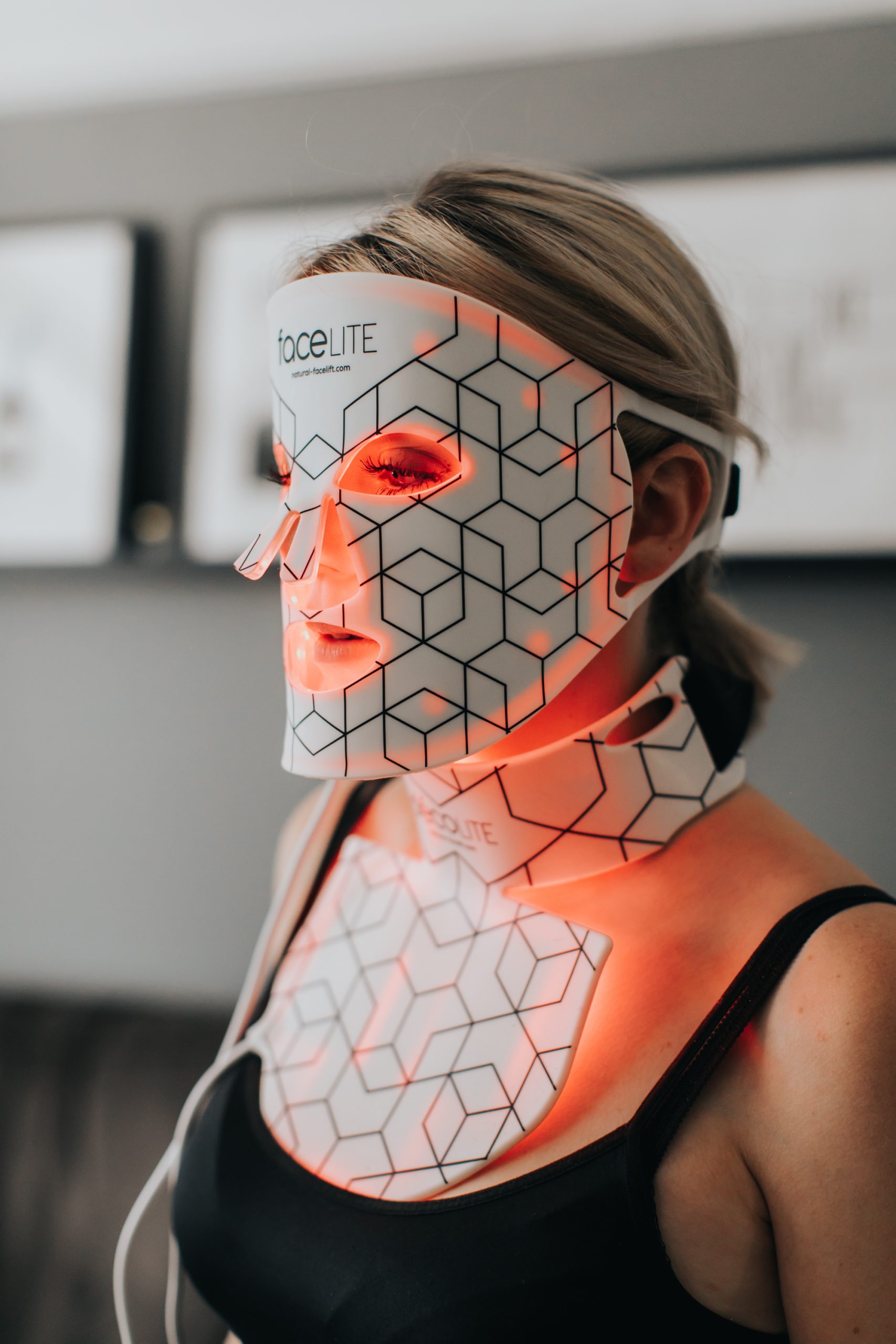 DecoLITE
DecoLITE offers all of the benefits of the FaceLITE machine but has been specially created to fit around your neck to specifically treat your neck and decollete (chest area).
This delicate area is prone to sun damage and skin ageing due to it's regular exposure to the sun and environmental stresses. We may put a daily sunscreen protector on our faces and forget to bring it down onto our neck and chest.
With regular use of DecoLITE at home you can help increase collagen synthesis, increase the texture look and feel of this beautiful, delicate part of our bodies
DecoLITE is a stand alone treatment but can be purchased with FaceLITE (as shown above) for complete at home skin rejuvenation.