Rejuvenated - The Science of Nature
As 2021 winners of 10 Beauty Shortlist Awards, Rejuvenated is a family owned, multi-award winning, local pioneering 'Beauty from within' company, dedicated to creating the best, most potent supplements to support your whole body and improve your skin from within.
This supplement brand is created using innovative formulas containing unique blends of natural and active ingredients to ensure incredible results for youthful skin, health and well being.  The award-winning capsule collection delivers potent ingredients to skin cells, promoting inner health and outer beauty for noticeable results and long term health.
Please remember supplements do not replace a healthy lifestyle but the they do boost and improve the functions of your body, giving you energy, vitality and a more revitalised skin.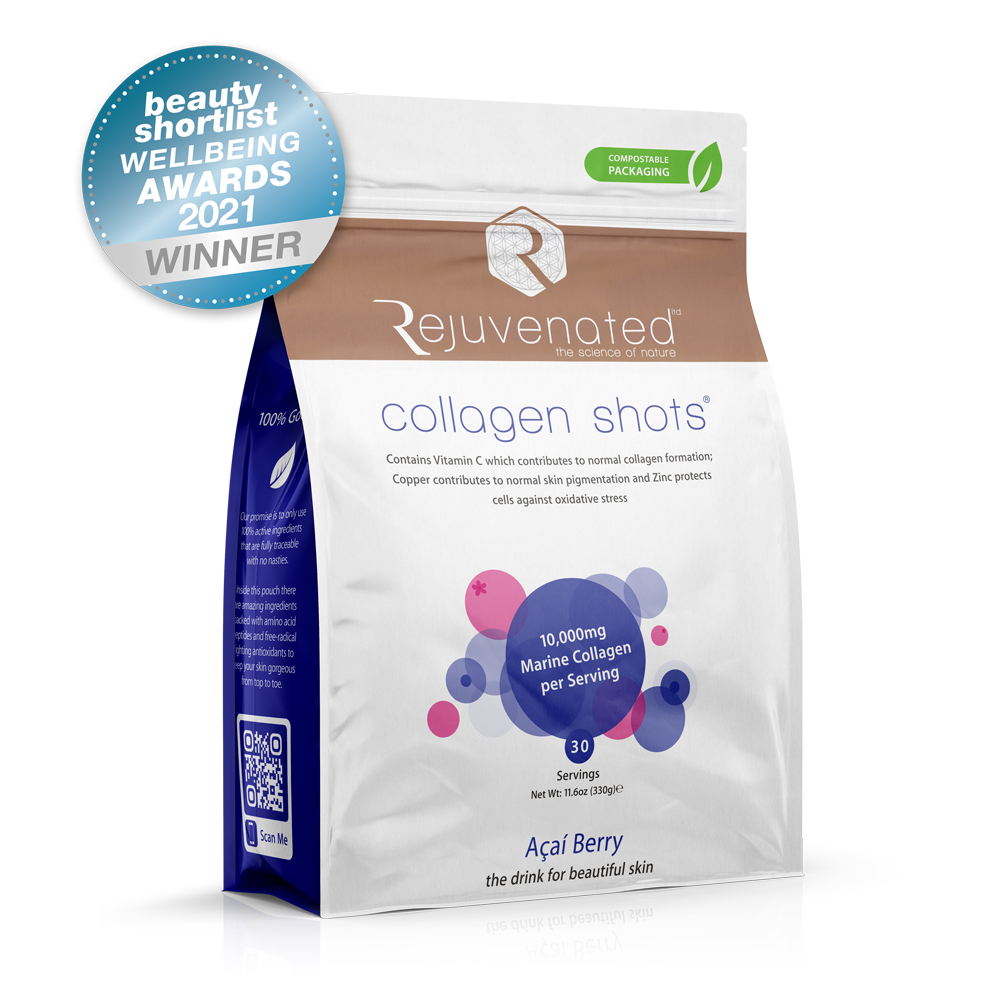 Collagen Shots
With 10,000mg hydrolysed marine collagen. This multi award winning product is the original and best formulated Collagen boosting supplement on the market.
It tastes great, does exactly what it 'says on the tin' no gimmicks just properly researched and formulated with clinically proven ingredients to give you optimum skin and body health.
The hydrolysed marine collagen will increase the amino acid peptides in your body, your digestive system will break them down, stimulating fibroblasts which in turn stimulate collagen production.
A wealth of antioxidant ingredients together with vitamins, minerals and hyaluronic acid give your body a boost and protection against the ravages of daily life and stresses.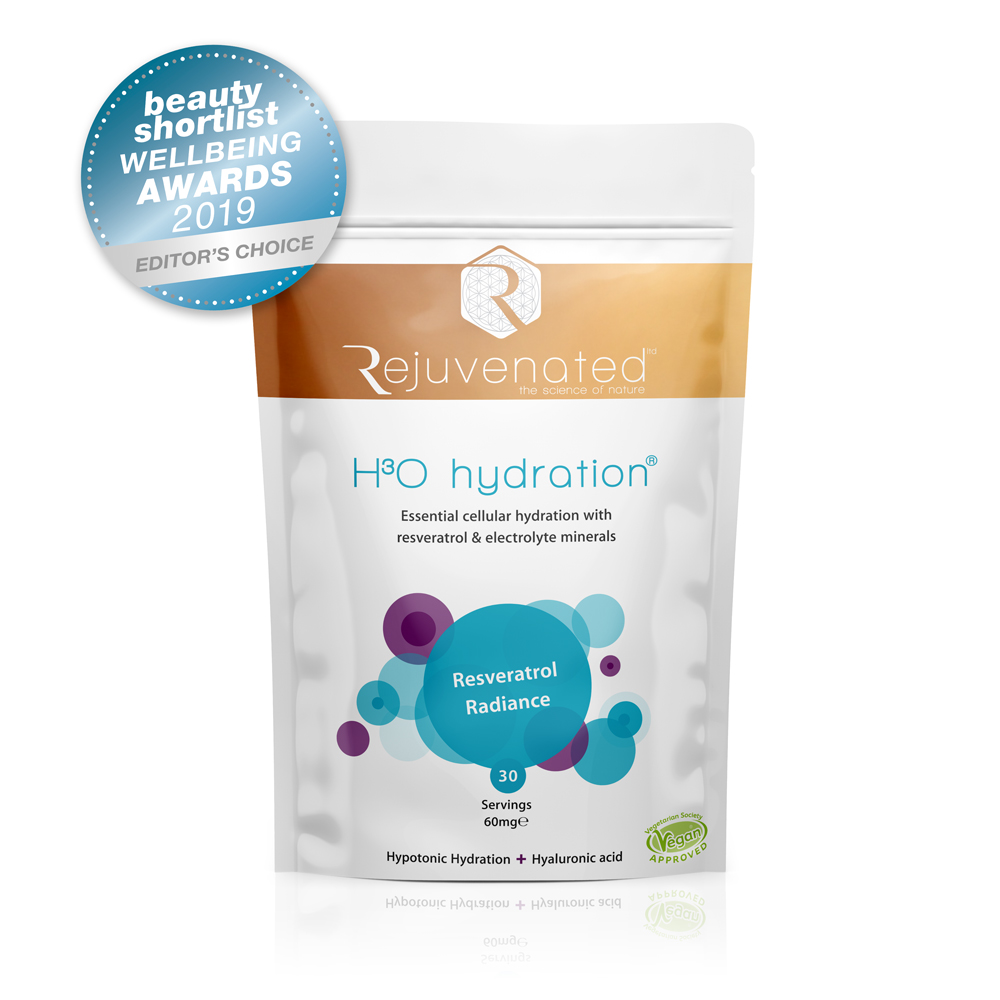 H3O Hydration
We are 90% water and so keeping ourselves hydrated is essential for the optimum function of our body and skin. Hydration is key to healthy skin and body.
A revolutionary plant-based drink, H30 Hydration® provides the body with vital minerals and ions for long-lasting hydration. Combining ionic electrolytes with hyaluronic acid and trans-resveratrol; this radiance-boosting cocktail optimises cellular metabolism for luminous glowing skin from the inside out.
Always take in the morning and then again following exercise or if you feel a bit sluggish.
This is a great drink to have just before bed if you have maybe consumed a few glasses of alcohol as it helps re-balance the fluid levels and hydrates your body while you sleep.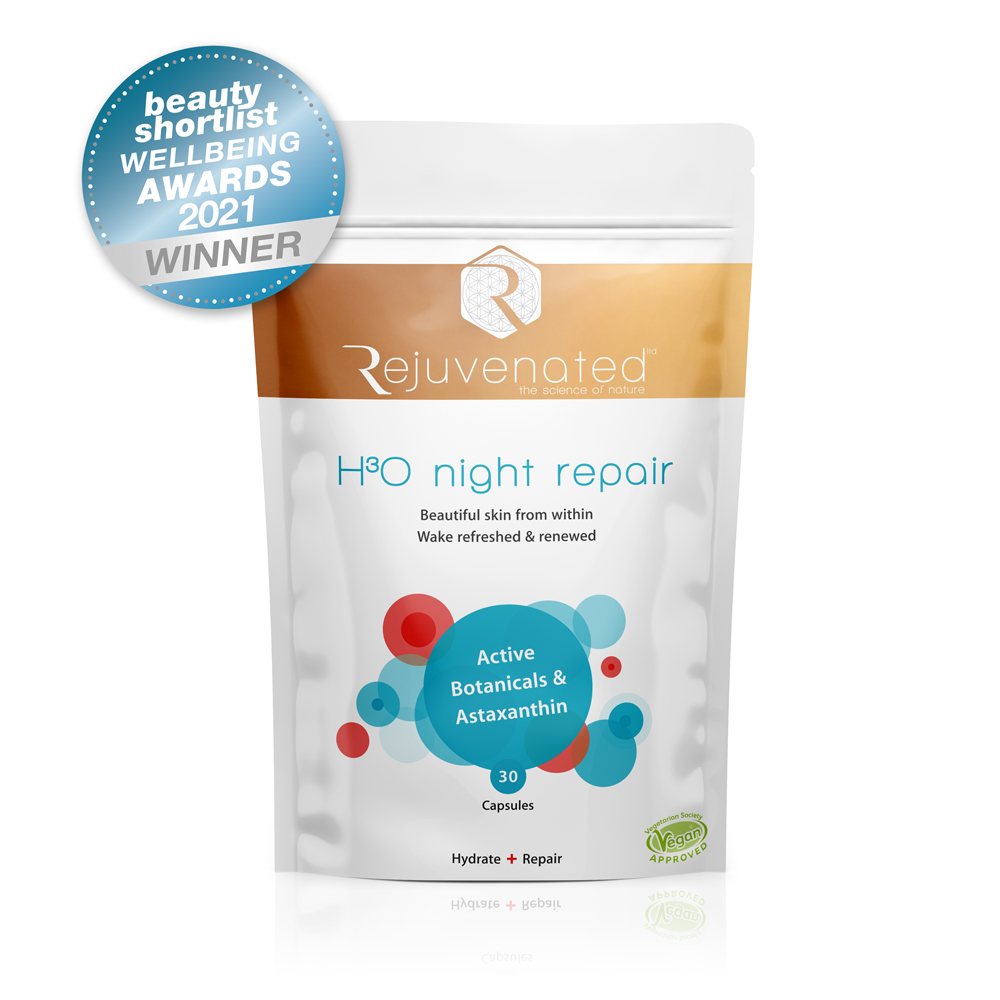 Night Repair
H30 Night Repair contains a potent blend of plant-based antioxidants, hyaluronic acid, vitamins and ionic electrolyte minerals to strengthen the skin whilst you sleep. Working in synergy with your circadian rhythm, these restorative ingredients ensure your skin is regenerated and hydrated upon waking.
While we sleep our body and organs go into 'rest' mode, no longer needing to be fully alert, enabling other functions to take over as we replenish our batteries ready for the next day. Night Repair increases the bio-availability of necessary vitamins and minerals needed to do this important job.
By taking 1 capsule every evening before bed Night Repair will combat dehydration and signs of ageing while you sleep.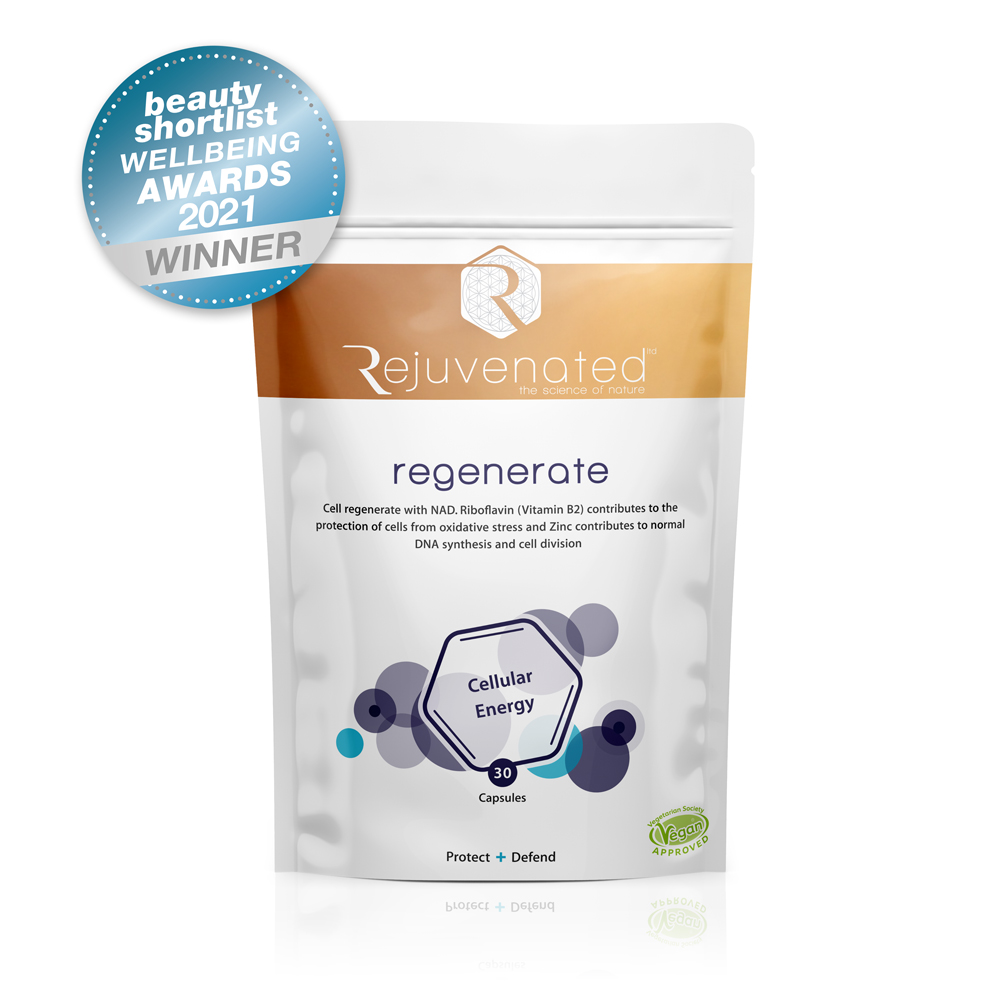 Regenerate
Brand new award winning Regenerate increases cellular energy by working to boost the DNA strands within your cells.
Regenerate combines powerful ingredients including NMN (a form of Vitamin B3) which is key to the production of an essential enzyme (NAD+) necessary for the repair of DNA within every cell in our body.
With other potent plant molecules, vitamin B2 and zinc Regenerate is designed to:
Support healthy cellular ageing
Promote cellular energy and healthy DNA
Reduce tiredness and fatigue
Support a healthy cardiovascular system
Support healthy bones
Help to maintain cognitive function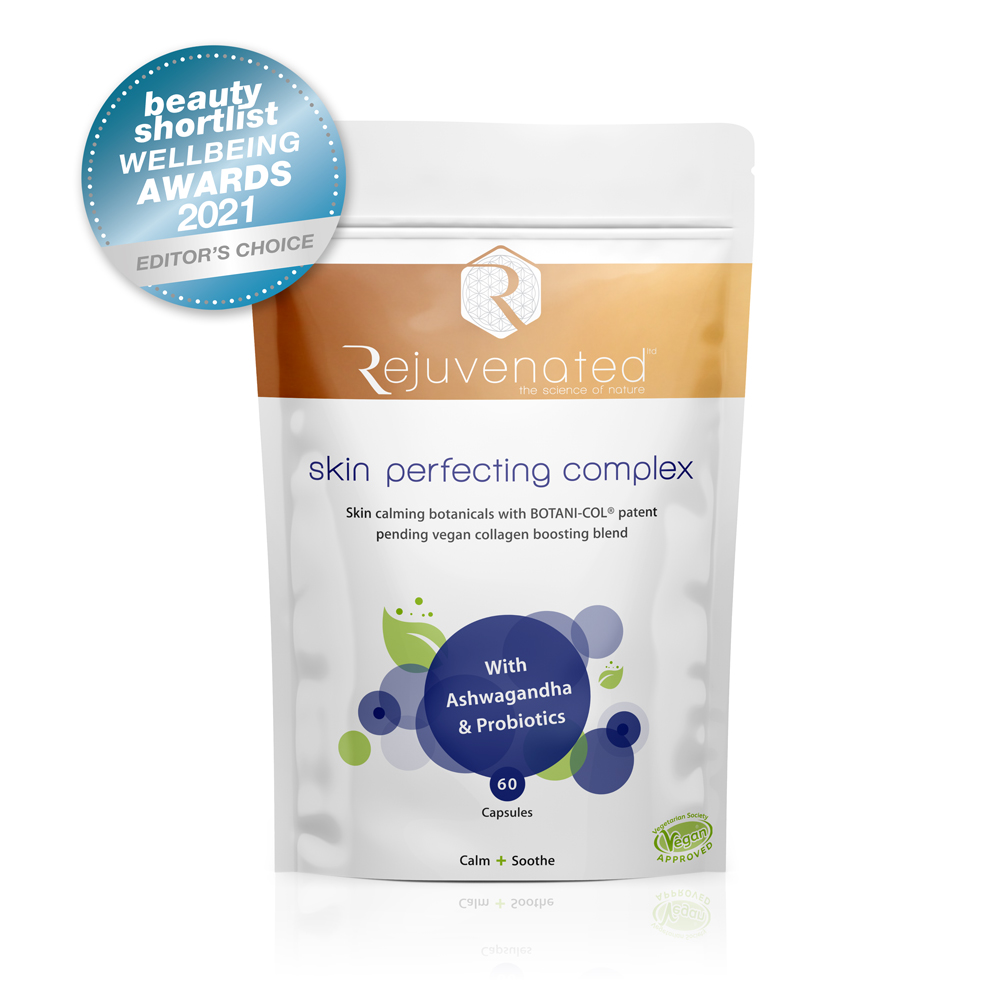 Skin Perfecting Complex
Skin Perfecting Complex is our vegan formula to support collagen & promote youthful skin.
As Collagen is uniquely an animal product, a great deal of work has gone into creating Botani-col® a 'vegan fusion' of ingredients which mirror the exact amino acid proteins required to stimulate Collagen synthesis.
Alongside this very exciting 'vegan fusion' collagen are many Skin Calming Botanicals including Gotu Kola, Stinging Nettle Leaf and Sea Buckthorn Berry with incredible antioxidant, soothing and calming properties. 
Alongside being a Vegan formula Collagen boost it is fabulous in helping calm inflamed skin, acne-prone, rosacea and stressed polluted city skin. 
Take 2 capsules daily and up to 4 to calm breakouts or if you are under extra stress.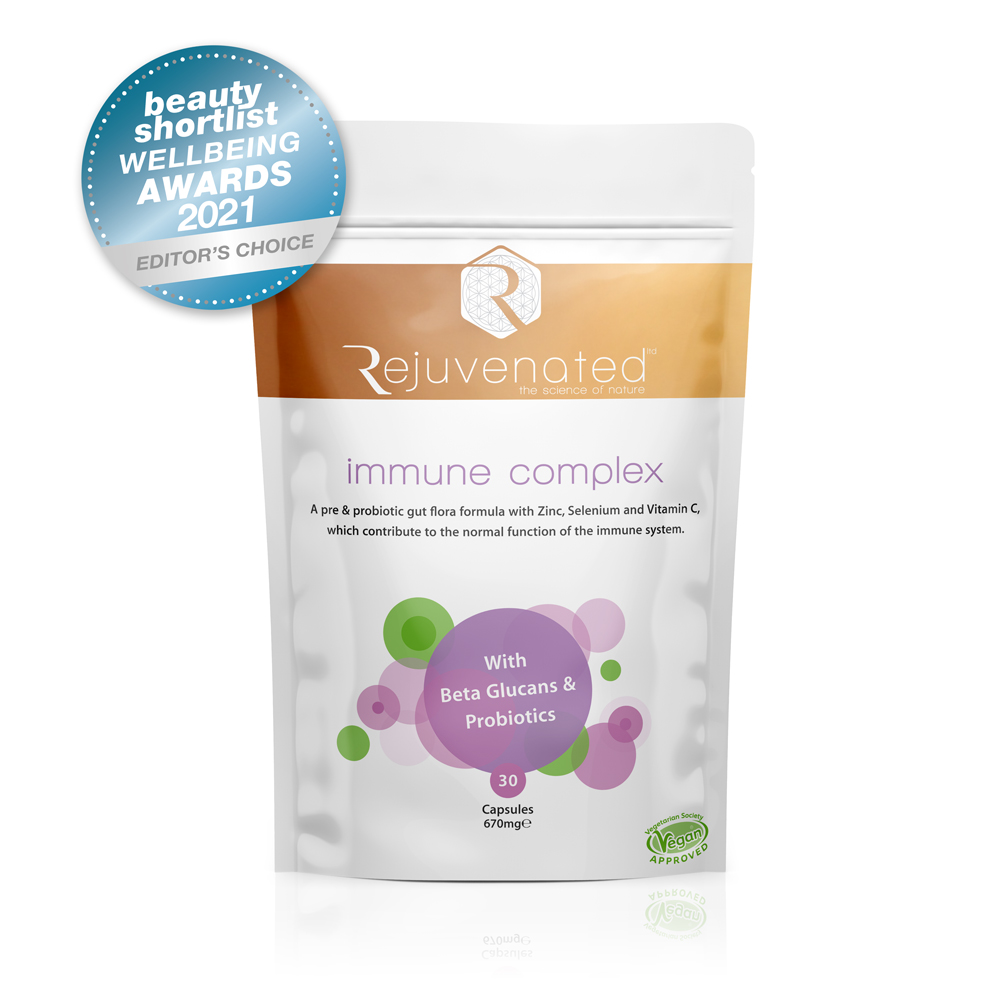 Immune Complex
Immune Complex contains a blend of prebiotics and probiotics to naturally prime the digestive system.
70% of the immune system is housed within the gut wall. Probiotics in your diet boost the 'good' micro-organisms which help to break down harmful substances. Prebiotics enable the probiotics to work more effectively, together building and maintaining a healthy amount of good bacteria and micro-organisms to support and help the digestive system.
Rejuvenated has added vitamins and antioxidants to this plant-based formula, which further support the body's natural defence mechanisms. These potent ingredients work to enhance the delicate balance of the immune system which also helps to boost brain and heart health.
A good effective immune system working in harmony with your body can help to reduce your susceptibility to infection and disease.