Adaptive SkinCare
Clinically Proven, results driven skincare created by skincare scientist Joe Lewis and team. Joe has been at the forefront of Cosmeceutical Skincare for over 35 years.
Our skin cell turnover (regeneration) slows down naturally as we age (intrinsic ageing), from every 30 days up to the age of 30, 40 days by the age of 40 and 90 days by the age of 60. This can be exacerbated by our lifestyle choices and stress. Priori uses lactic acid as its base ingredient to improve cell turnover encouraging your skin to act as if it were younger than your age.
However; 80% of skin ageing is caused by external factors (extrinsic ageing) especially UV exposure which we are subjected to daily from the sun (even on dull cloudy days) and radiation from our computers and mobile devices. while 'Daylight Protection' is essential the team at Priori have for many years been creating products with a GPF (genetic protection factor) not just SPF (sun protection factor)
Priori Skincare comprises of a cocktail of ingredients which work together to give your skin exactly what it needs at the time it needs it. This is adaptive skincare – the same product can be used by a multitude of people and it will deliver the ingredients when and where required by each individual's skin.
With Priori you may only need one product to do a job that another range may take 2/3 products to achieve a similar result.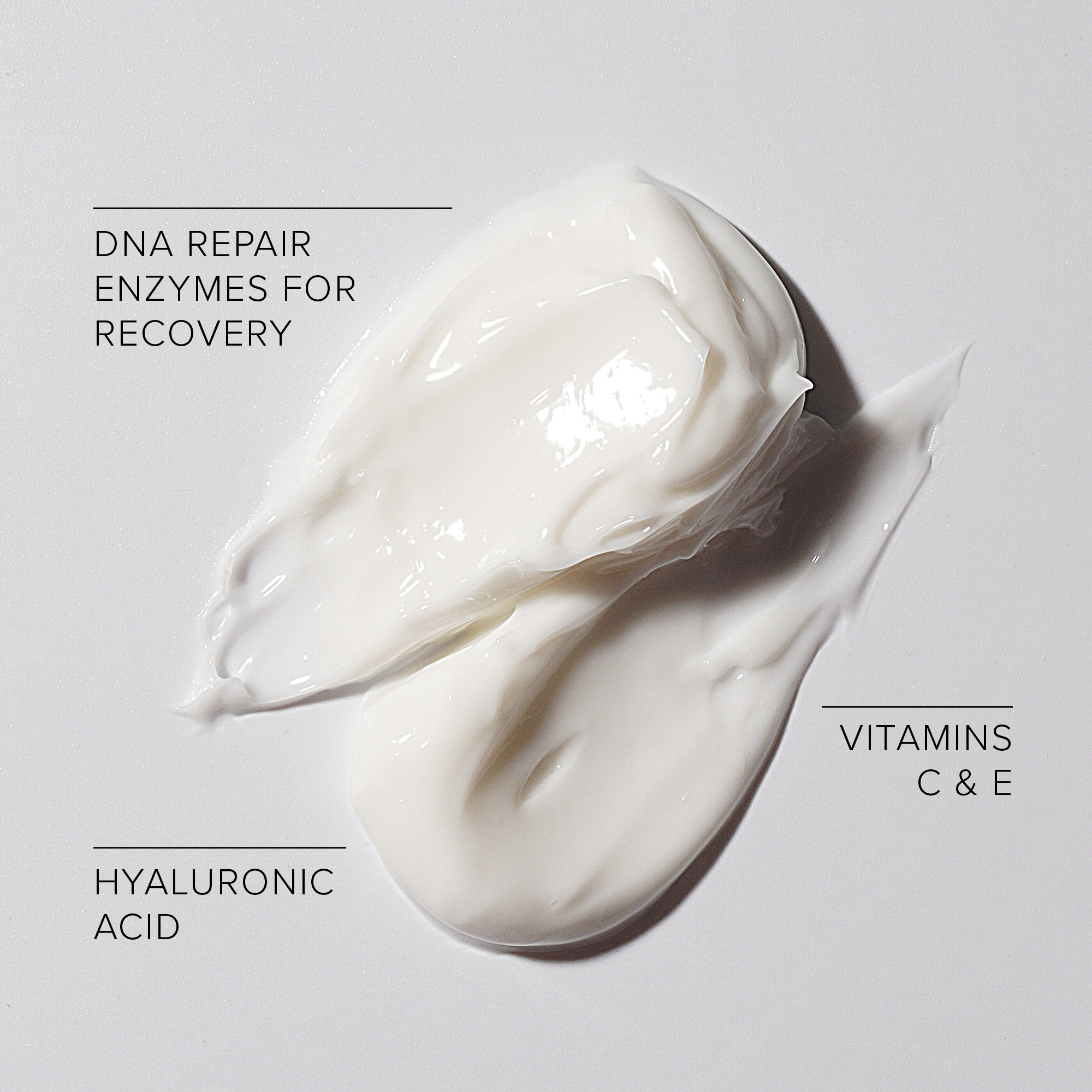 DNA Repair Range
DNA Repair enzymes are a natural function of your skin's repair system within each skin cell, however sometimes they cannot keep up with the demands of modern day life.
The DNA Repair range is a 'breakthrough' in ingredients and delivery technology and acts as the ultimate Insurance Policy for your skin.
DNA Recovery Serum is the 'Hero' Product everyone needs regardless of the skincare range they use. With 3 key ingredients this product has been clinically proven to remove pre-cancerous cells on the DNA strands of a skin cell and repair the strand to optimum health. It works within the mitochondria of the cell alongside antioxidant protection to improve cell life and is a complex of 3 natural sources of repair enzymes which mimic the ones in your skin.
The 3 ingredients, blue/green algae, a microbe(good bacteria) and mustard seed extract are encapsulated in a liposome delivery system directly onto the DNA strand of your cell where they have been clinically proven to 'cut out' and repair damage along the strand.
There are 3 products in this range:
DNA Recovery Serum: Can be used by everyone regardless of skintype – this is an 'Insurance Policy' for your skin and is applied before anything else morning and/or evening.
Ingredients include: DNA Enzyme complex to repair and reverse DNA damage
Vitamins C & E – these antioxidants can help reduce pigmentation and increase collagen synthesis
Barley – can help to normalise redness caused by hot flushes
Sandalwood – is anti-bacterial and can help reduce fine lines
Evodia Fruit Extract, nourishes and brightens
DNA Intense Recovery Creme: The perfect "skin hug in a jar' a beautiful creme/balm which soothes, hydrates and nourishes your skin day and/or night.
As well as the DNA Repair Enzymes other key ingredients are:
Glycerin – which acts a moisture magnet, reducing Trans epidermal water loss
Soliberine (Butterfly Bush) superior antioxidant that also reduces redness and blocks 43% of Blue light damage from computers/tablets/mobiles
Hyaluronic Acid … intense hydration
Vitamin C to minimise pigmentation and stimulate collagen production
Vitamin E to protect the cell membrane from free radical damage.
DNA Eye Serum: Contains all of the above ingredients in a formulation specifically created for the delicate eye area plus 0.3% retinol (Vitamin A) to gently improve texture and tone around the eye area helping smooth fine lines and wrinkles.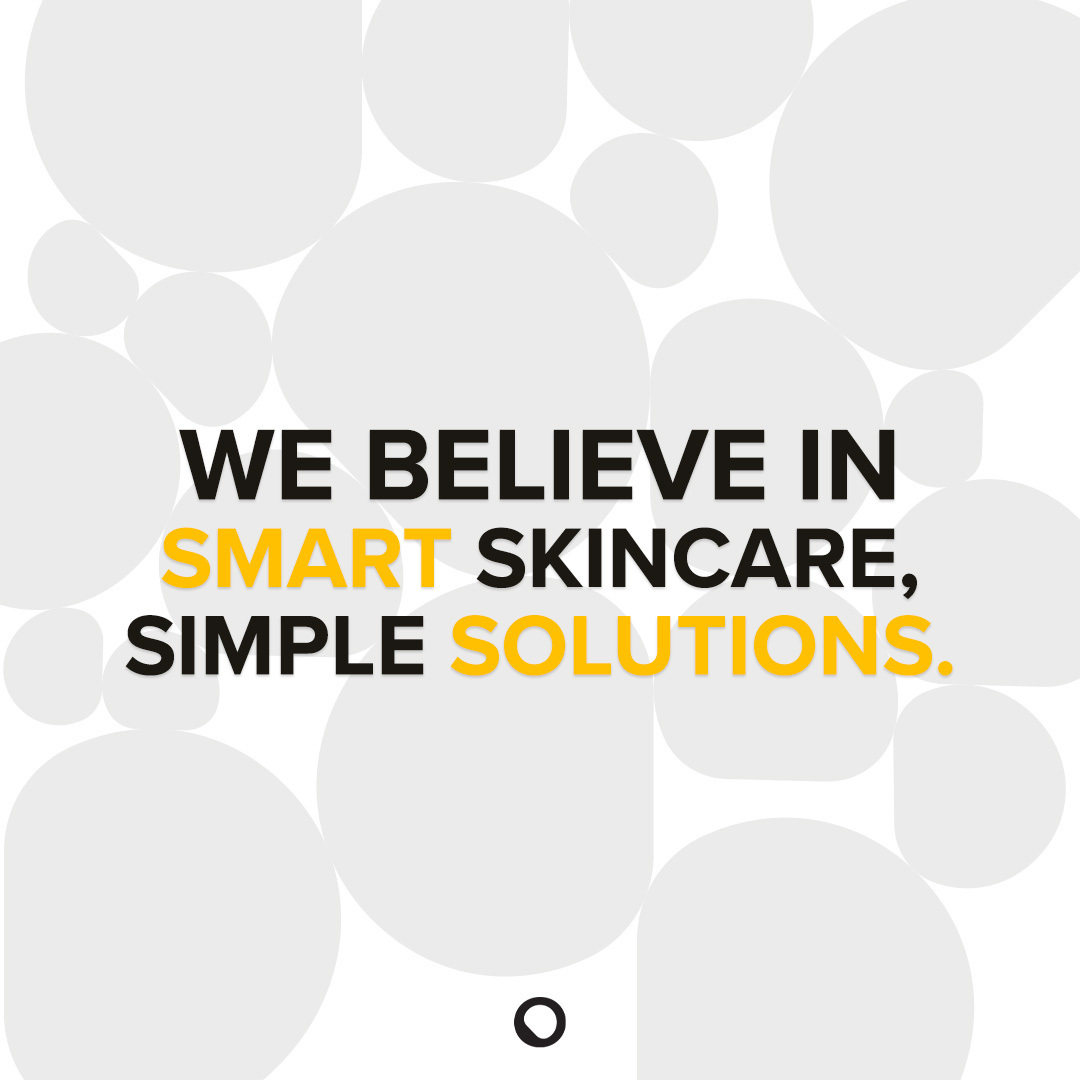 Adaptive Core Range
The Key ingredients in this range are contained within the LCA Complex – which comprises PH Balanced lactic acid together with Vitamins A,C,E and Pro-Vitamin A.
The anti-oxidants in the vitamins work together to fight free radical damage within the cell membrane while Lactic acid increases your skins natural hyaluronic* response to improve hydration, texture, volume and condition.
*Hyaluronic Acid is the part of your skin cell that can hold 1000x it's weight in water and is vital to maintain optimum skin health.
Range of Products are:
Gentle Cleanser: Can be used day and night for all skin types.
As well as the LCA complex it has an Anti-irritant complex – comprising Allantoin, Bisabolol (from Chamomile) and Sucrose Cocoate (a coconut fatty acid).
Gel Perfector:* This 'Corrector' product is designed to help reduce acne breakouts and congestion with the addition of Salicylic Acid to break down the build up of debris within pustules and Pentapeptide-4 to boost collagen and help with scar management.
Skin Renewal Creme:* Perfect for dull skin in need of renewing and brightening. Dehydrated and sun damaged skins will really benefit from this great lightweight night treatment. The LCA Complex is boosted with the addition of Sericin a rich emollient that helps prevent Trans Epidermal Water Loss (one cause of dehydration).
*Be aware 'Corrector' Products have to be introduced slowly and gradually to your skin care routine. I will be able to advise you when you book a skin consultation.
Correctors are also essential prep products prior to any skin peel treatments.
Barrier Restore Complex: This is one of my favourite products in all my ranges. Suitable for all skin types it's one of those "does what it says on the tin" type products.  With a small amount of LCA Complex to increase hyaluronic response in the skin.
Anti-irritant complex to soothe and calm and a boost of Ceramides and Essential Fatty Acids to restore and repair the lipid barrier of your skin and prevent Trans Epidermal Water Loss.
This fabulous multi-purpose Lightweight moisturiser can be used day and/or night. Is great on oily skins, sensitive skins and normal or dehydrated skins too.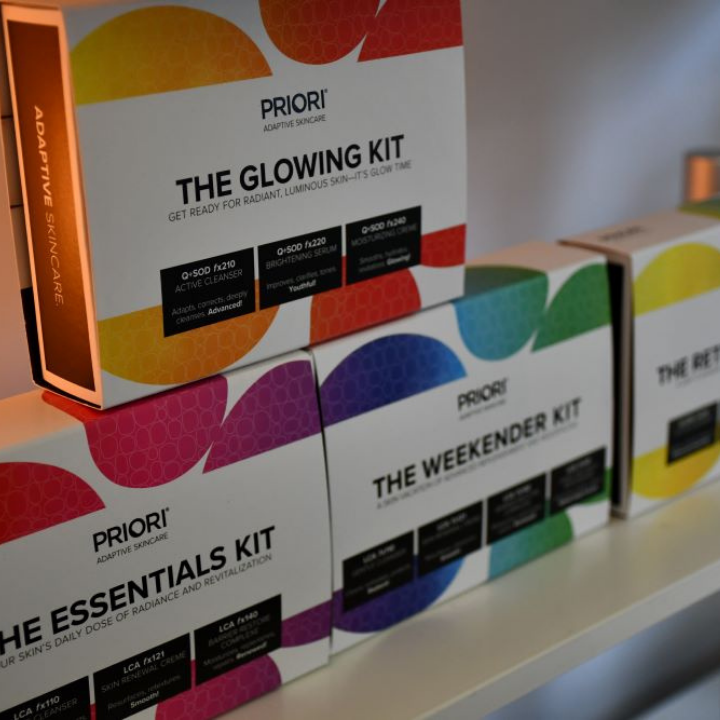 Adaptive Superceutical Range
Giving the Ultimate antioxidant protection offering supreme correction and protection right to the mitochondria (battery) of skin cells.
Q+SOD Complex is made up of  highly concentrated Super Oxide Dismutase (which is also the skin's natural neutraliser of Free Radical Damage) plus CoQ10
CoQ10 as a molecule is too large to penetrate the skin on it's own so in this range it is placed with the S.O.D in a liposome delivery system so that it can be targeted into the cell where it will be at it's most potent and effective.
As with all Priori products a consultation is necessary to determine the correct products and usage for your concerns.
Q+SOD Active Cleanser
This is a treatment cleanser acting like a mini 'peel' for the skin. With the addition of Lactic Acid (AHA) and Salicylic Acid (BHA) it exfoliates and deep cleans.
Great for blemish prone skins and for most skin types as a 'beauty flash' type product. Left on for a couple of minutes it immediately brightens and freshens the skin.
Q+SOD Brightening Serum
This Corrector helps to improve pigmentation whether from sun damage or scarring. It's also a wonderful illuminating treatment for skin that is feeling dull and tired maybe due to illness or stress. Additional ingredients are:
Lactic acid and 0.15% Retinol for cell renewal and collagen response.
Licorice and Mulberry – natural skin lighteners.
Camelia, Grape, Bisabolol and Allantoin to soothe, calm and act as an anti-inflammatory.
Q+SOD Moisturizing Creme
This is a SUPERHERO cream: A moisturiser and corrector all in one product!!
With Lactic Acid and 0.15% Retinol to resurface and stimulate collagen production along with superior hydration.
The Advanced Moisture Complex comprising: (vegetal)Glycerin, Sodium PCA, Sodium Hyluronate and Trehalose work together to not only attract moisture to the skin but to prevent water loss and increase the skins natural ability to retain moisture.
Q+SOD Eye Cream
The use of this product requires a gradual build up and is amazing used in conjunction with DNA Eye Cream – one in the evening the other in the morning.
With Lactic Acid and 0.15% retinol for hydration and skin renewal,
Glycerin as a water magnet,
Caffeine to reduce puffiness and dark circles
Palmitoyl Tripeptide 3 to firm and tighten the skin.
This eye cream can also be used around the lips – perfect for smokers lines!!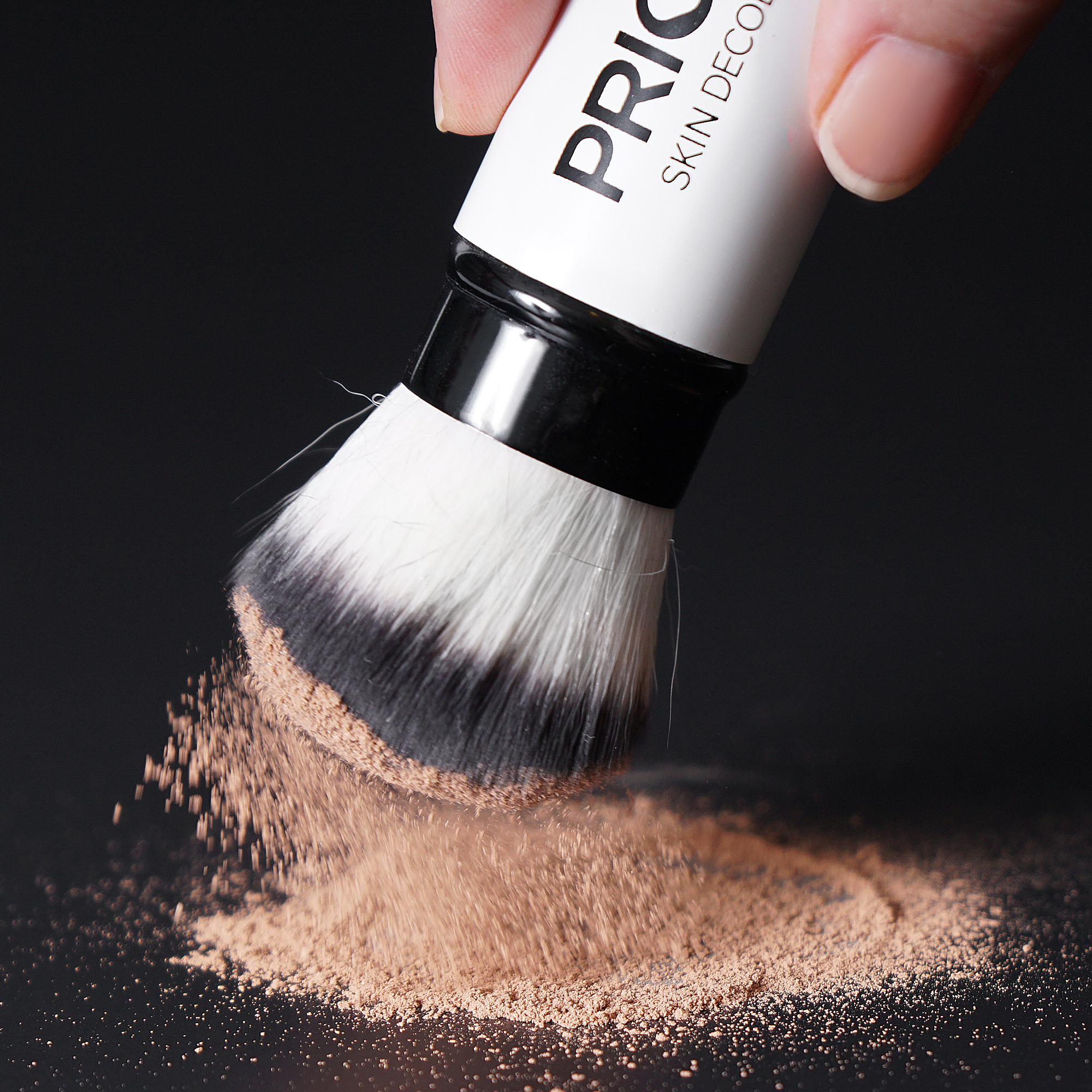 Priori Minerals
These are Brush on Skincare and Brush on broad spectrum Sunscreen
With 5 different tones there is a shade suitable for everyone.
100% all natural powder sunscreen and make-up can be applied in the morning, topped up easily during the day and can be layered for greater coverage when required, it is so pure you don't notice you're wearing it and your skin feels beautifully soft.
Using a 'Botanical Complex' consisting of Acai, Grapeseed, Turmeric, Green Tea, Chlorogenic Acid (a polyphenol found in coffee cherry) and Cacoa.
By blending these 6 raw ingredients Priori Minerals offers the ultimate daytime shield/repair and protection by creating over 30 anti-oxidants and polyphenols to have a brightening, anti-inflammatory and de-pigmentation effect on the skin.
With Non-Nano Zinc Oxide as a physical broad spectrum SPF 25 your daylight protection is complete.
Priori Minerals have been clinically proven to reduce inflammation of acne and acne rosacea when applied directly to the skin without any other skincare products
Protection is key to all great skincare. Lactic Acid and Vitamin A both increase cell turnover therefore protecting those new cells from the damaging effects of the sun and computer radiation 365 days a year is the key to having skin that looks youthful and remains in optimum health on a daily basis.