Why Mechanical Exfoliation?
With a diamond tipped wand, Microdermabrasion is an effective yet gentle way to remove surface dead skin cells. Leaving your skin fresh, smooth and brighter.
This mechanical exfoliation is an excellent treatment to remove dry dead skin cells.
Using a tip of crushed diamonds and gentle rotating action dead skin cells are exfoliated and removed by vacuum suction onto a filter. It will smooth, brighten and freshen your skin.
Ideal for millea (small whiteheads) for which dry skin can be prone.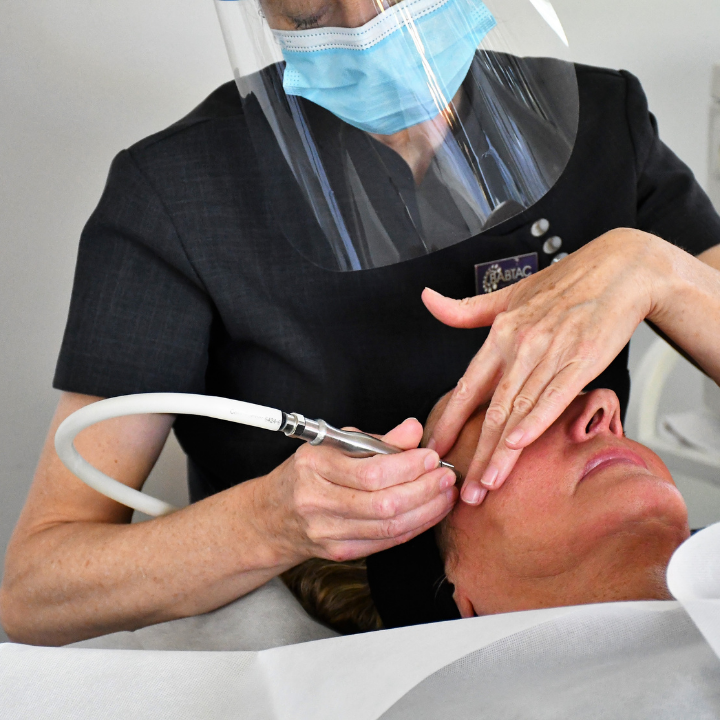 Microdermabrasion Treatment
Microdermabrasion can be a one off treatment or part of a course depending on the needs of your skin.
It can be a stand alone treatment or an added extra to a DeLuxe Facial.
It is very effective at removing surface dead skin cells, allowing your skin to be more receptive to all skincare products used at home.
When we're young our skin naturally sloughs off and rejuvenates every 28 days but sadly from the age of 30 this process slows down.
Microdermabrasion will help your skin to behave as though it were younger.
It's also a great way to loosen the surface of unwanted blackheads, allowing for easier gentle extraction and natural cell renewal.
Your treatment always begins with a double cleanse to suit your skin type.
I select the strength and time for comfort and effectiveness.
With a 30 minute treatment a face mask is applied to suit your needs on that day, followed by the correct serum, moisturiser and daylight (UVA+UVB) protection
A 50 minute treatment also includes and restorative, relaxing and rebalancing neck, face and shoulder massage prior to the mask and skincare products.
If you have particularly thickened, dry or congested skin a course of treatments once a week together with the correct homecare routine will leave your skin feeling, younger, fresher and more healthy.